Today I'm going to show you how I took a boring piece of burlap and customized it with our monogram. I'm really impressed with the way it turned out.
You will need the following supplies:
Cardstock
Exacto Knife
Spray Adhesive
Acrylic Paint
Small Stenciling Pouncer (A pouncer is a stenciling tool used to apply paint. It looks like a stick with a small round sponge on the end. You can usually find them in the craft store near the paint brushes or with the stenciling supplies.)
Burlap
Old Piece of Cardboard to Protect Work Surface
For my project, I knew that I wanted a very specific type of monogram. I needed a large size letter, and I wanted the font to be interesting but not too fancy. I couldn't find exactly what I was looking for at the local craft stores, so I decided that I would have to make a stencil myself. The process was fairly easy. Probably the most difficult thing about making the stencil was finding a few minutes and a place where I could be alone. I just sat down at the computer and looked at all the fonts until I found one with an "M" that I liked. I settled on the Monotype Corsiva font that came with my Microsoft Office programs. I printed out a 740 pt letter M onto heavy cardstock. Once that was printed, I took my exacto knife and cut out the letter, leaving me with the stencil.
Once you have your stencil, you will need to coat the back side of it with an adhesive that allows you to move and reposition the stencil. I used this:
It works really well, but
you have to follow the instructions
. So that your bond is temporary and your stencil can be repositioned and removed, you will have to spray the stencil with a light coat of the adhesive and then let it dry for 3-5 minutes before positioning it on your burlap.
Once you've done that, figure out exactly where you want your monogram and place your stencil. Press it into place, making sure that all of the edges are firmly in place. Protect the area behind the stencil with a piece of cardboard or an old paper grocery bag. Put a bit of acrylic paint on a small paper plate. I liked the Folk Art Brand acrylic paint because it was very thick and didn't bleed under the stencil.
Load your pouncer with a very small amount of paint and begin lightly dabbing your pouncer in the cut out area of the stencil.
I applied several light coats until the color was as dark as I wanted it to be. You can use less paint if you prefer an aged look.
Allow your paint to dry completely, and then remove your stencil.
This is my favorite part of a stenciling project!
WOW! I can't believe how great that looks!
Now my mind is racing - I could make pillows, table runners, Christmas stockings, etc., etc., etc. Check out some of the stenciled burlap items the big home decor catalogs are selling.
Ballard Designs
Pottery Barn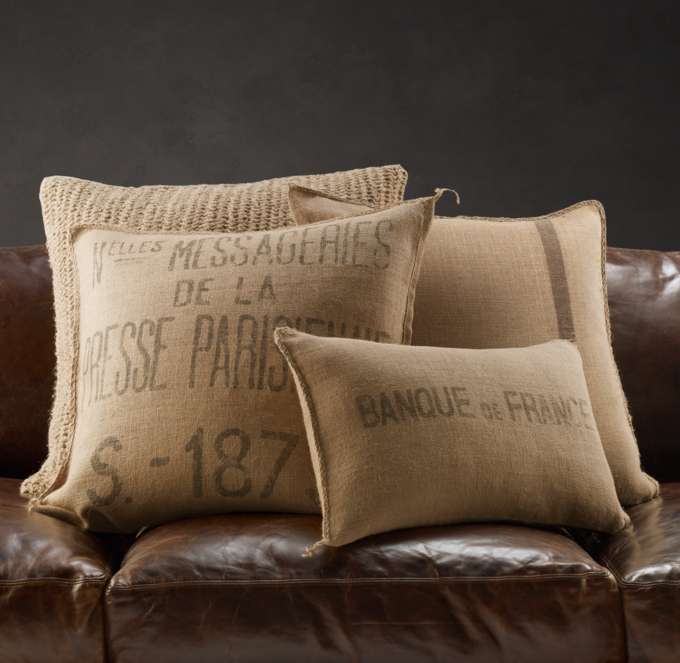 Restoration Hardware
Restoration Hardware
What do you think I'm going to make with it? Hint: It's going in this room, and I don't need any pillows, table runners, or Christmas stockings in here.
Sorry, you'll have to wait until the next post, but I promise it will be good!