**********************************
As you know by now, I'm in the process of taking my daughter's room from tween to teen. Her new favorite color is coral, and we've brought a touch of it into the room with the bedding. However, I felt the room needed a few pops of coral throughout in order to tie everything together. My daughter let me know that she wanted solid white curtains, and I agreed with her choice. Coral is such an intense color, that having all-over coral curtains would be a bit much. I chose these Merete bleached curtains from Ikea:

In keeping with the plan to scatter the coral color scheme throughout the room, I decided to add a 4-1/2 inch band of coordinating fabric along the vertical edge of each curtain panel. Here's how you can dress up a pair of plain panels using the same technique.
First, gather your supplies. You'll need scissors, a ruler, fusible hem tape, an iron, pins, a sewing machine and a piece of fabric at least as long as your curtain panel. I used this fabric: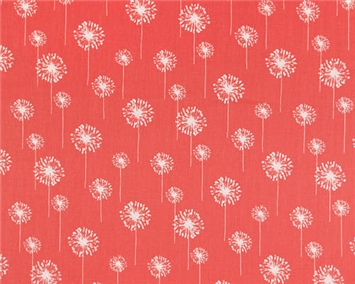 Second, if you are using grommet panels like I did, I would suggest you trim the grommets off (provided your curtain panel is long enough to reach the ground without those few inches of fabric). You don't have to trim the grommets off, but I tried leaving them on and didn't care for the way the panel looked in the end). If you do trim the grommets off, you'll have to turn under the top edge of your panel.
Next, cut a 10 inch wide piece of fabric that is a few inches longer that your curtain panel. Turn the top edge under 1/2 an inch and iron.
Fold the piece of fabric in half lengthwise (it will now be 5 inches wide). Fold each of the long raw edges under 1/2 an inch and iron. Now your piece of fabric will be 4-1/2 inches wide.
Now position your strip of fabric along the edge of your curtain panel. Follow the instructions for your fusible tape and attach each side of your fabric strip to your curtain panel, keeping the top edge that you turned under even with the top edge of your panel.
You're now ready to hem your curtain panel. No matter how many times I measure and how many different measuring tools I use, I can never get curtain panels hemmed to the correct length using conventional sewing methods. If you've read any of my other blog posts, you know that I'm all about unconventional methods, which is what I've had to resort to when it comes to hemming curtains. It seems the only way I can get my curtains hemmed to the correct length is by hanging them first, and then hemming them while they are hanging. If you'd like to use this method of hemming, hang your unhemmed panels the way you want them and then pin the bottom so that the panels just barely skim the floor.
Pull the panels (still hanging) up onto the ironing board and press them.
Next, turn the curtain panel over to the wrong side and turn the raw edge under again so that it's encased in the hem.
Now it's time to sew. With your curtains still hanging, and pull them up onto the table and run them through the sewing machine.
If your curtain panels got a little wrinkled with all the manipulation, you can either steam them or spray them with a little of this.
I'm a big fan of this product!
When you're done, you'll have something like this:
See how the bottom edge just skims the floor thanks to my unconventional hemming-in-place technique?
Now that that project is done, I'm one step closer to finishing the room. Check back throughout the week for updates on my progress. Hopefully I'll be able to keep my promise and get the big reveal posted by Saturday. Have a great week, and thanks for stopping by!