*****************************************
I've heard of Black Friday creep, but I'm starting to think that Valentine's Day creep is becoming a reality. Quite a few people in my neighborhood haven't even taken down their Christmas decorations, and I'm already seeing tons of Valentine's projects in blogland. Never to be one to be left behind, I thought I'd jump on the bandwagon and share a cute little Valentine' s Day project that I came up with the other day. If you've been around here for awhile, you know that I had my kitchen chandelier dressed up for both
Halloween
and Christmas.
When the time came to pack all of the Christmas decor away, the chandelier looked a little bare. I decided to embellish the chandelier with Valentine's Day chandelier magnets. You all are probably thinking I'm just a one-trick pony with my repeated use of the chandelier magnet idea, but it's a quick, easy and inexpensive idea that packs a lot of punch. So, I figure why not adapt it to a variety of holidays?
In this version, instead of using some pre-made object (like the sparkly pumpkins I used for Halloween or the ornaments I used at Christmas), I decided to craft some colorful three-dimensional hearts out of scrapbook paper. I'm quite pleased with the final result.
If you'd like to make your own paper heart chandelier magnets, you'll need the following supplies:
Enough patterned cardstock to make three hearts of your desired size for each magnet. For example, if your chandelier has five arms, you would want five magnets, so you would need enough paper to make fifteen hearts. Does that make sense? I chose to use three different patterns of paper on each magnet. You could do the same, or you could make your hearts using just one type of paper. My pretty little pad of Valentine's Day cardstock was $4.99 at Michael's.
One piece of scrap paper or scrap cardstock to use to make a template
Scissors
Embroidery floss
One decorative bead per magnet (if your chandelier has five arms like mine, you would need five beads)
One jewelry magnet per chandelier magnet (sold with the jewelry findings at your local craft store)
Directions
Decide on the desired size of your heart and make a half template using your scrap paper. It may be tempting not to use a template, but you need all of your hearts to be the exact same size so that they'll line up in later steps.
Fold a piece of your patterned cardstock in half, right sides together.
I want this pretty rose pattern to show, so I folded the paper like this:
Place the template on the fold. Trace the template. Do the same for the rest of the cardstock.
Cut out each of the hearts individually. If you try to stack them, they may not turn out to be the exact same size, which will make aligning them difficult.
Glue one half of one heart to one half of another heart, wrong sides together, like in the following image.
Cut a piece of embroidery floss about ten and a half inches long. Thread one of your beads onto the floss, and tie it off at the end. Put a line of glue in the crease of the two hearts you just joined. Lay your embroidery floss in the crease with the bead at the bottom.
String your jewelry magnet onto the floss at the top of the heart. Loop the floss back into the crease as shown below.
Don't you just love my manicure. Between this winter weather and all my DIY projects, my nails don't stand a chance.
Finally, match up the creases and glue the third heart on top of the other two (sorry, forgot to take pictures of this step). Your final product should look something like this:
I really don't have any Valentine's Day decorations, so I'm happy that I was able to create something so quickly and easily, with minimal expense. Now that I see these in place, I'm feeling the need to add some additional Valentine's Day décor to the house. Do you have any quick and easy ideas I can use to a little Valentine's love to my house? If so, please share - we've only got five weeks until the big day!
Linking To: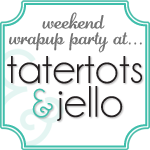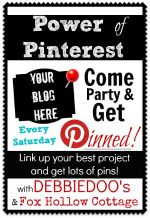 http://www.itsoverflowing.com/