Happy hump day, friends! Did you know that this is supposedly the most depressing week of the year? A local radio station is reporting that people find this to be the most depressing week of the year because they have already failed on their resolutions, money is tight because of holiday spending, and they don't have a vacation to look forward to. The glow of the holidays is gone, but those extra holiday pounds aren't. The short and dreary days don't help matters any. Fortunately, research shows that a short walk outside, even in these chilly temperatures, can help your disposition during this less-than-exciting time of year. One thing that always improves my state of mind is a good, easy to implement organizing tip, and I've got a
great
one for you.
Yesterday I decided to help my teenager clean out her closet. When it came time to put her shoes away, the first thing that came to mind was lining them up on one of the lower closet shelves.
Yes, it looks neat, but lining her Toms and flip flops up along a shelf seemed like such a waste of space. It would be great if we could some how utilize the vertical space to store these types of shoes. Enter these magazine racks I had on hand that weren't being used for anything else.
Do you see where I'm going with this? If you're not getting it yet, you're about to have an "ah-ha" moment. Check it out!
How easy is that?!? I was able to fit two pairs in each magazine file. Using this storage idea, four pairs of shoes take up less linear space than two pairs stored the traditional way. These files were purchased a long time ago from Target for $2.50 each. Unfortunately I only had these two, so I'm going to have to purchase a few more before my teen's summer flip flop wardrobe gets put into rotation. I doubt that Target still has this black and white patterned file, so we'll probably have to go with an alternating or mix-and-match theme. Mix-and-match is stylish now, right?
I'll have more on the big closet clean-out in another post. I just couldn't wait to share this simple organizing idea with you. Do you have any easy organizing tips that have made a difference in your closet or your life? I'd love to hear about it if you do.
Linking To: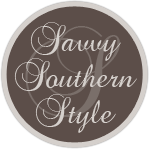 http://www.savvysouthernstyle.net/