You probably already know that February 14th falls on a Thursday this year. Because my kids' extracurricular activities and homework don't stop for Valentine's Day, it's going to be a busy evening for me. My husband and I will have to have our romantic dinner out some other night. Even though it won't be a big romantic holiday for us, I do plan on making our in-house Valentine's Day dinner special for the entire family. One way I'll do this is by adding a Valentine's Day twist to everyone's favorite food, pizza.
In the past, I've created heart-shaped pizzas using a variety of doughs and mixes for the base. Pillsbury pizza dough in a can and Jiffy brand pizza crust mix both come to mind. This year I'll be using a new idea that I got from Pinterest.
Seriously, this is one thing I saw on Pinterest that actually works - a Pinterest success story! Since finding this recipe, it has become my family's favorite way to make pizza. When the girls have time, they like to make their own individual pizzas.
Here's what you'll need:
One frozen white Rhode's dinner roll for each individual pizza you'd like to make

Pizza sauce

Olive oil

Cheese

Any additional toppings your family likes (we just use pepperoni)
Brush your baking pan with a generous coating of olive oil.

Place your rolls on the pan and thaw according to the package directions. I usually don't plan far enough in advance, so I've always used the speed method of thawing. I'm sure the conventional method would work just as well, if not better.
Preheat oven to 400 degrees.

When thawed, use a roller to flatten the rolls (you may have to use a light coat of oil or cooking spray on the tops). Use your fingers to shape the dough into hearts.
I like to bake my crusts for 3-5 minutes before adding toppings. The original recipe didn't call for this, but I prefer a slightly crisper crust.

Top your heart-shaped crusts with sauce and toppings of your choice.

Bake for 5-7 minutes, checking regularly for doneness.
The above directions are just guidelines that worked well for me. You may have to adjust cooking times and temperatures based on your oven.
When you're finished, you'll have a delicious and festive Valentine's Day dinner that the whole family will enjoy. I'm warning you, these are really tasty, so make lots!
Linking To: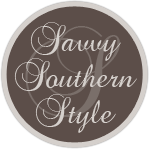 http://www.savvysouthernstyle.net/